Roisin Willis was ranked 2nd in the nation at 800 meters heading into this weekend's New Balance Indoor Track & Field meet, but she had one huge road block in the way: Athing Mu. Mu is the US #1 ranked high school 800m runner this year, and has a personal best of 2:03:98. She is also the American Record holder in the 600m run (1:23:57). Yes, the AMERICAN RECORD. Not high school, not junior, American Record.

On paper, Mu was the favorite to win. But Track & Field doesn't happen on paper. It happens on the Track. Every athlete, regardless of past performance still has to show up and perform on race day. And it looked like that's what she was going to do.
Mu took a commanding lead right out of the gate. She had a comfortable five to ten meter gap between her and 2nd place for the majority of the race. It looked as though she was going to capture another 800 meter Indoor National Title.
She looked very strong through 700 meters, and even when she rounded the last curve, there was no one to be seen on the screen behind her. You could tell she wasn't closing as strong as she typically does, but it didn't seem like anyone was close enough for it to matter. Then as Mu turned to face the homestretch, Roisin came blasting into the screen wearing the red and black SPARC uniform with the number 8 lane sticker on her shoulder.
You could tell with every step that she was closing on Mu, but was there enough race left to actually catch her? With about 30 meters left Roisin started to push and pump the arms and legs pouring everything she had into the final stretches of the race. 20 meters. Roisin is right on Mu's shoulder. 10 meters. They're stride for stride! 5 meters! Roisin takes the lead! Can she hold on? Yes! Roisin wins! 2:05.71!!!!!! A new US freshman class record!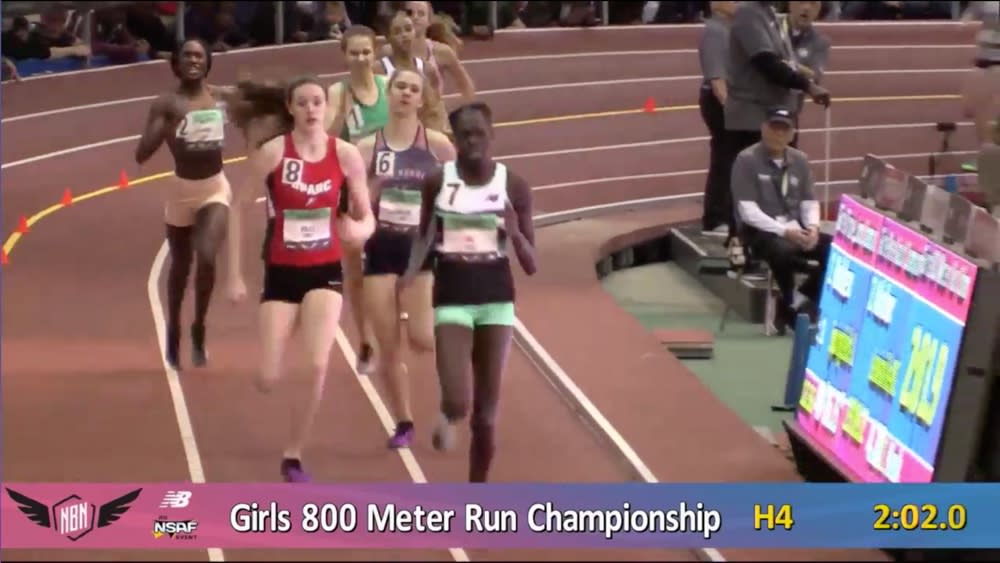 It was an amazing race to watch, and we're super proud and grateful to call Roisin our teammate!
This is just the start of the high school Track & Field season, so there's plenty of training before June. What is she capable of? Time will tell. For now, we'll just be over here waiting for the snow to melt…
---
More News